Using Windows 11 on Microsoft Edge v111.0.1661.54.
I made a new character, a goblin fighter with Irongut ancestry and Street Urchin background.
Here is the background:
On skill training, I trained some skill abilities of my choice (stealth and survival) and then noticed that Nature cannot be trained on skills 3/4 even though I changed my mind about a skill. I took away a point of perception (2/4) after and then I saw Nature being available. I added the point to Nature (3/4), afterwards I noticed that Perception cannot be changed again. It said expert but was supposed to be trained.
I saved the character, left and re-entered the builder, and Perception can be changed again. The problem is that when I went to change perception, the point wasn't actually used. Now I have the legendary perception on a level 1 character.


Unfortunately, leaving and re-entering the character builder does not reset the legendary proficiency of perception back to trained, as well as proficiency lowering (which immediately makes perception untrained).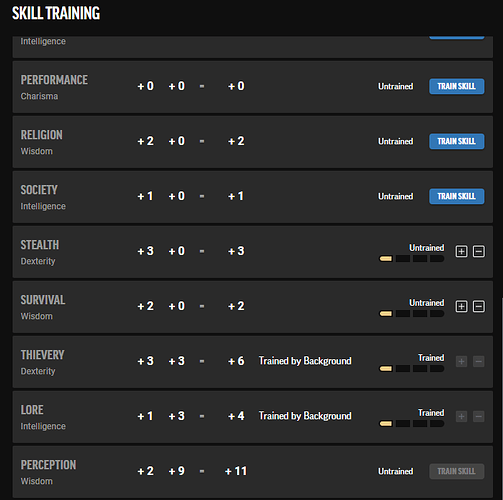 I then removed Nature from the skill training and saw Perception as "master" with two points. I lowered it once and now Perception is untrained and cannot be trained again (and is stuck at +11).
And finally, I added Nature once again to make it 3/4.
Sorry if the post is too long. I wanted to explain the situation in as much detail as I remember.