Using Windows 11 on Microsoft Edge v111.0.1661.54.
This issue is similar to: Fighter Initial Proficiency - Demiplane Feedback / Character Tools Feedback - Demiplane Forums
When picking fighter skills, the list of skills (Acrobatics and Athletics) are duplicated, the counter being set to 0 instead of 1. This happened after I saved and left the character builder and then re-entered it.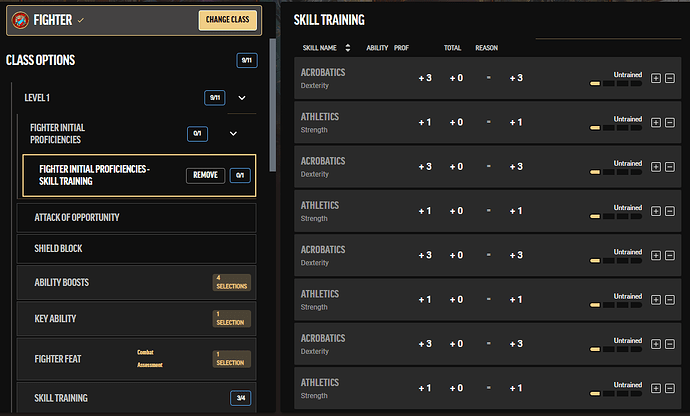 I originally chose acrobatics.
The skills also say "untrained" but athletics is actually trained. I made a selection for acrobatics as well, thinking that I would somehow get trained in that as well, but it didn't work.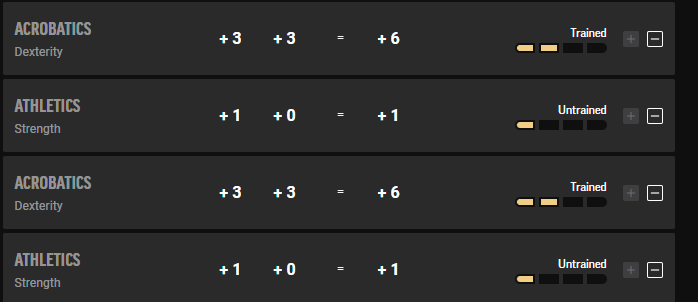 A save and re-enter later, the next thing I did was click the - button for all skills, which didn't change the count and also showed the untrained buttons but were unclickable. I clicked the "remove" button and it wiped out all of the skills being listed.

After saving, the character sheet still shows acrobatics as trained, even though I removed it.
Going back to the builder, remove seemed to have did nothing and the skill list still shows duplicated listings.
I even noticed that the X/4 skills section even is set to 0.
That should be it. Nothing else really happened besides the skill change of 0/4. Sorry if it's too long.