Sorry, but this might go a bit long. I HOPE I can get my question/point across without going overboard with the wording.
Context: I am currently one of 2 DM's playing D&D 5e and I am considering Pathfinder 2e. My long time group is currently doing the PF2e Beginner Box to see how well they like the rules system(I would like to switch from 5e, IF my requirements are meet). For context, all of my players and the other GM's campaigns/characters are all in DnDBeyond paid for by myself, so I recognize the benefits Nexus COULD bring to my game.
With that said, I have 3 players who WILL NOT UNDER ANY CIRCUMSTANCES use an electronic device during the game session. So, what that means is that character sheets for any game either need COMPLETE, or the game needs to have simple to look up rules in a single book. Well, we all know that the later is NOT Pathfinder2e.
For anyone who both played and used the D&D 4e Character Builder, you might remember there is an option when printing the character sheet to include powers and items in the print out and that's basically what I am asking for/looking for in the Pathfinder 2e sheet. ie, will there be an option at Character Sheet launch or in the near future post launch to print out ALL of the characters feats in detail and their selected spells in detail?
Here is a small sample of what I have done for each character, but I spent about 45 minutes each to compile and format this into a document (times 10 character classes up to level 3) after building the characters in Pathbuilder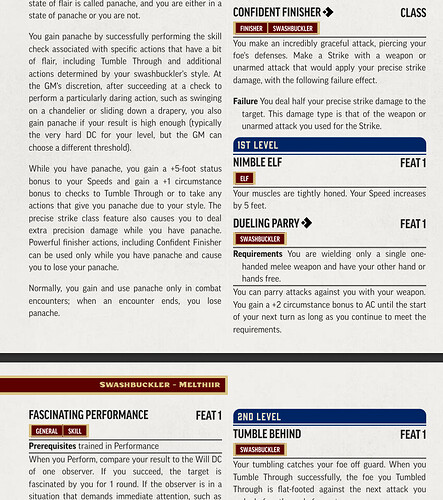 Basically, this is kind of a go-nogo on my "should I invest my money into Nexus" as the printed character sheet having everything the player needs to play front and center needs to be there in order for me to justify spending a large chunk of change into Nexus.
Note that the formatting can be completely different than the above example pic, but the level of detail needs to be enough to adjudicate the feat/class feature without having to pull out a physical book or the online version, especially when there are well over a dozen rule books to have to find.
Thanks…