From 6/20/2023 Dev Update
Latest Updates
Pathfinder NEXUS
(WIP) Highhelm, Harrow Deck, Stolen Fate

#3

Character Tools

Builder Available Options Sorting, Bulk

Remaster Project
Avatar Legends NEXUS
5e NEXUS
(WIP) Early Access Configuration
Vampire / Hunter
(WIP) Player's Guide, Lines Drawn in Blood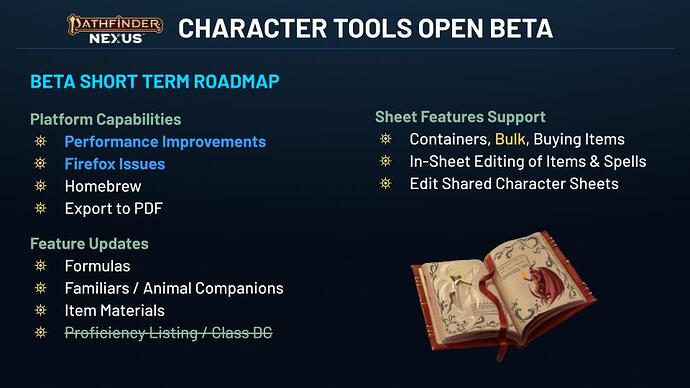 Character Tools Open Beta Update Notes - 6/20/23 (Just went live) - Cross-posted to the forums and discord
Character Builder Updates

We have restructured how character options available to users are displayed across Pathfinder and all other games supported by Demiplane's Character Builder.

Specifically for Pathfinder, this means Ancestries, Backgrounds, and Class options are now sorted first by all user-accessible content and then alpha-numerically.

Work continues on multi-game support of both the Character Builder and Sheet.

Character Sheet Updates

We have added a Bulk calculation in the Equipment section of your Character Sheet.

The Bulk calculation sits underneath the search bar. Clicking on the bulk calculation grants access to the Bulk drawer, which provides details on the mechanic.
As a result of this update, we have also been able to unblock several Feats that impact a character's Bulk value or calculation.

Feat Updates

The Green Watch Initiate feat now correctly increases the Survival skill to Expert.
Upcoming
Pathfinder NEXUS
Character Tools Open Beta Features
Content - Rage of Elements
Pathfinder Remaster Project
5e NEXUS
Early Access Target - July
Character Tools - Next Games
Avatar Legends
Vampire: The Masquerade
Marvel Multiverse RPG
5e
Giveaway: We gave away a Pathfinder Standalone Adventures Bundle. Join us live in future weeks for a chance to win more cool things! (Tuesdays at 9am Pacific)
Q&A