From 6/13/2023 Dev Update
Latest Updates
Pathfinder NEXUS
(WIP) Highhelm, Harrow Deck
Remaster Project
(Live) New Sheet Theme: Hand-Drawn Heroics

This was the winning theme from our poll we ran on the launch day of the Open Beta.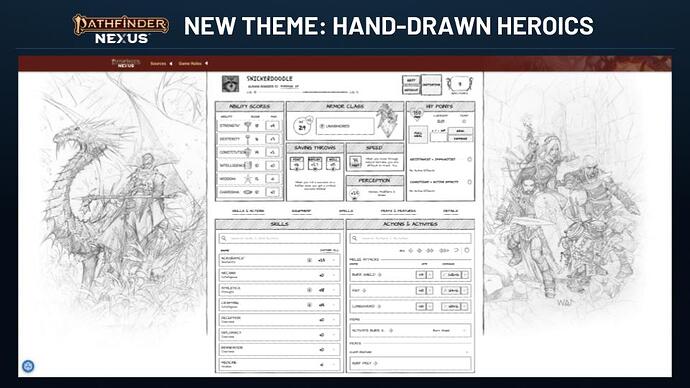 Avatar Legends NEXUS
5e NEXUS
(WIP) Early Access Configuration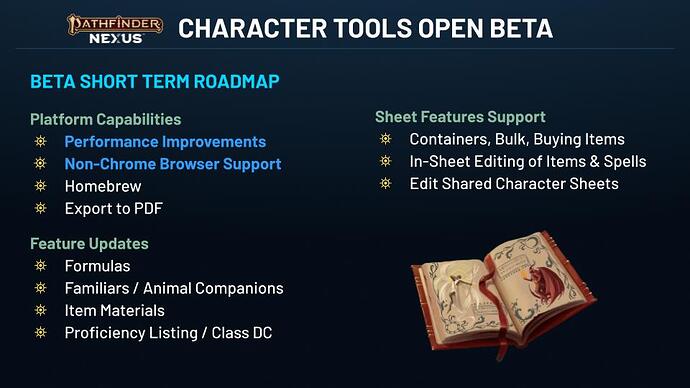 Character Tools Open Beta Update Notes - 6/13/23 (Incoming Today) - Will be cross-posted to the forums and discord when live
Character Builder Updates

We made significant advancements on multi-game support within our builder this past week.

Character Sheet Updates

Released the winning selection from our Community Character Sheet vote
We have added a "Quantity" Field for Items. You can modify quantities in the Item Drawer.
Items now default quantity when they are added to the Character Sheet.
We resolved an issue where Basic Actions (under Actions & Activities) did not display information when expanded.
Some Pathfinder feats, features, and spells use a "Higher Of Class DC or Spell DC"

Class Updates

Ranger

You are now able to select a Favored Terrain when you choose the Favored Terrain feat.

Sorcerer

Signature Spells no longer allow players to select a higher-level spell than they should have access to for that signature spell slot.

Thaumaturge

The Thaumaturge's "Adept" boost for the Regalia class feature now only applies when a skill is trained to Master.

Feat Updates

Cleric Dedication

We resolved an issue where the Deities list did not paginate.

Spellmaster Dedication

We've added the Spellmaster's bonus to the Identify Magic skill action(s).
The Spellmaster's Resilience feat now prompts players to choose a Magical Tradition.

Vampire Dedication

Dominating Gaze now scales based on character level.
Upcoming
Pathfinder NEXUS
Character Tools Open Beta Features
Content - Rage of Elements
Pathfinder Remaster Project
5e NEXUS
Early Access Partner Announcement:
Character Tools - Next Games
Avatar Legends
Vampire: The Masquerade
Marvel Multiverse RPG
Giveaway: We gave away an Avatar Legends Digital Bundle. Join us live in future weeks for a chance to win more cool things! (Tuesdays at 9am Pacific)
Q&A