From 6/27/2023 Dev Update
Latest Updates
Pathfinder NEXUS
(Tonight!) Highhelm, Stolen Fate Finale
(Soon) Harrow Deck
Character Tools

Skills and Skill Training Fix
Avatar Legends NEXUS
(WIP) Character Tools

Builder - Internal Testing, Sheet - Engines
5e NEXUS
(WIP) Early Access Configuration
Vampire / Hunter
(WIP) Player's Guide, Lines Drawn in Blood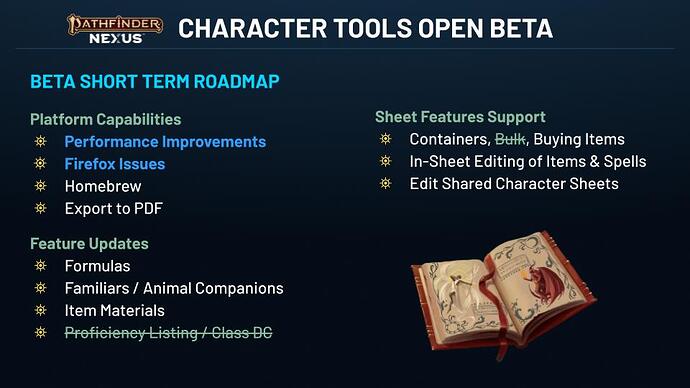 Character Tools Open Beta - Skill Training Resolution (Incoming Later This Week) - Will be cross-posted to the forums and discord when live
Several Character Options grant skill- or skill proficiency-related benefits. Nearly all of these benefits are now supported. Some examples are below:
The Human's "Skilled" Heritage now upgrades the chosen skill from "Trained" to "Expert" at Level 5.
Archetypes that boost a Character's skill to a given proficiency now work as expected. The most shared example of this would be the "Medic" Archetype, which now correctly increases a Character's Medicine Proficiency to Expert.
Previously, changing a Character's Class could cause inconsistencies in the number of skills that could be trained. This has been resolved.
Previously, users could increase or decrease any skill's proficiency at any level where a Skill Increase benefit existed. Now, the Builder tracks which skill proficiencies were increased at each character option for easier tracking and tracing.
Upcoming
Pathfinder NEXUS
Character Tools Open Beta Features
Content - Rage of Elements
Pathfinder Remaster Project
5e NEXUS
Early Access Target - July
Character Tools - Next Games
Avatar Legends
Vampire: The Masquerade
Marvel Multiverse RPG
5e
Children of Éarte
Episode 50 Tonight!
6pm Pacific @ Twitch

Special Giveaways in chat
On the Éarte - Next Month
Skip July 4th, returning in August
Giveaway: We gave away a Vampire NEXUS Ultimate Bundle. Join us live in future weeks for a chance to win more cool things! (Tuesdays at 9am Pacific)
Q&A