From 11/15/2022 Dev Update
Latest Updates
Holiday Sale
Use Promo Code: NEXUSNOEL22
25% off NEXUS books* AND get your first month of Demiplane Membership free!
November 15th-29th
*Excludes Bundles, Hardcovers, and Avatar Legends
Pathfinder NEXUS - Early Access
(Tomorrow!) Lost Omens: Impossible Lands, Blood Lords: A Taste of Ashes
(Internal Alpha) Character Builder & Digital Sheet

Tweaking Spell Preparation / Management
Hunter NEXUS Early Access
(November 29th) WoD Team Review this week!
Vampire NEXUS - Early Access
(SoonTM) Cults of the Blood Gods, Chicago by Night

We received the files for these books yesterday, and will begin working to make the updates immediately.

(WIP) Auld Sanguine - New Year's Eve Story
ALIEN RPG NEXUS
(SoonTM) Colonial Marines, (WIP) Destroyer of Worlds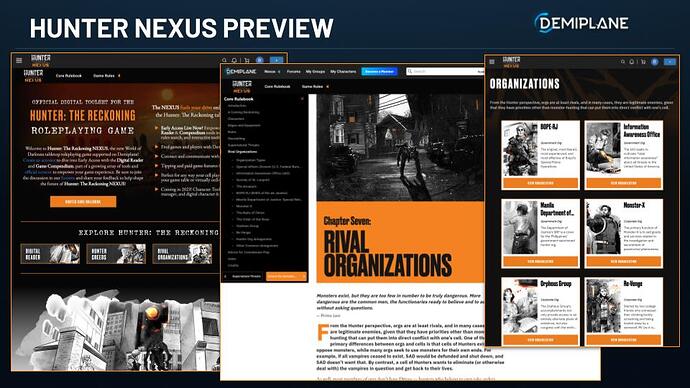 Giveaway: We gave away a free Vampire NEXUS Ultimate Bundle. Join us live in future weeks for a chance to win more cool things!
Upcoming
Character Builder & Digital Sheet
Pathfinder Closed Alpha Invites Incoming
Game Content
Pathfinder

Agents of Edgewatch, Lost Omens: Firebrands, Treasure Vault, Rage of Elements

Vampire

Children of the Blood, Let the Streets Run Red, The Chicago Folios

ALIEN RPG

Heart of Darkness, Chariot of the Gods
Children of Éarte - End of Year Schedule
Chapter Episodes

November 15th
November 22nd
November 29th
December 6th

On the Éarte Holiday Special