From 1/10/2023 Dev Update
Latest Updates
Pathfinder NEXUS - Early Access
(LIVE) Sources, Primers, and Listings Updates

General Polish, Mobile Tweaks

(Next Week) Gatewalkers: The Seventh Arch, Fists of the Ruby Phoenix (Compiled)
(WIP) Agents of Edgewatch AP
(Today) Character Builder & Digital Sheet

Closed Alpha - Tuesday Build
Vampire NEXUS - Early Access
(WIP) Character Builder & Digital Sheet

Design Phase / Exploration - 85%
ALIEN RPG NEXUS
(WIP) Destroyer of Worlds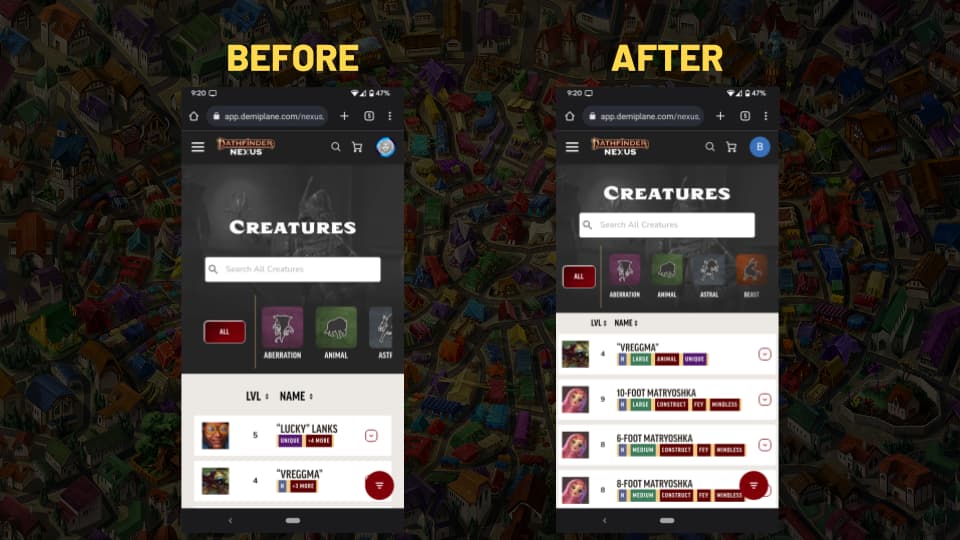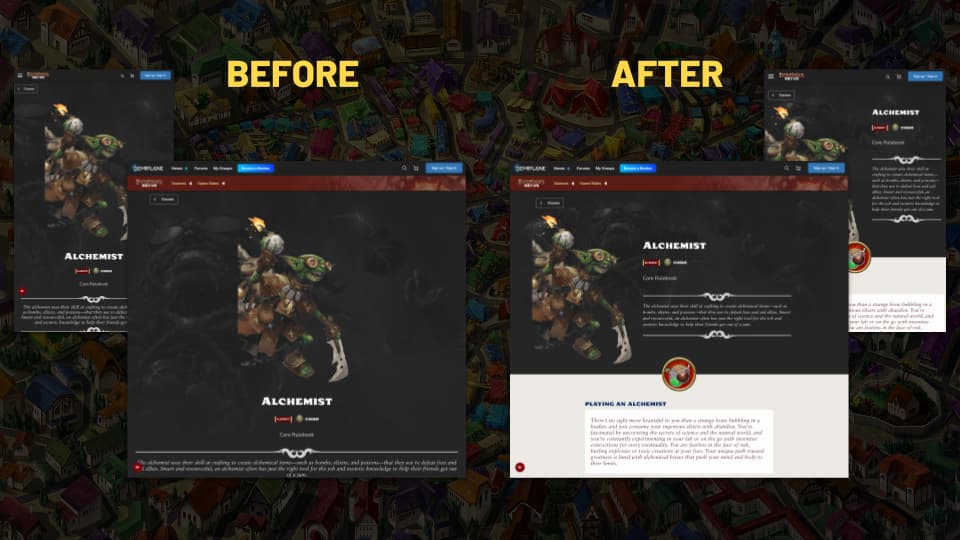 Character Tools Closed Alpha
Update Notes - 1/10/2023 (will be cross posted in the forums and discord today)
Updated interactions for the Skill, Skill Action, Actions, and Activity buttons based on community feedback: users can now click anywhere on the button to expand/collapse the button or select the name of the button to open its corresponding drawer.
Fixed issue keeping users from searching Skill Actions. Skill Actions can now be searched.
Added source material information to the drawers for various action and activities.
Ability Scores, Armor Class, feats, items, and Class Features.
Added the armor class drawer
Users are now able to hide actions and activities.
Updated Perception and Speed drawers.
Users can now set which speed they want to display on their sheet.
Giveaway: We gave away a Pathfinder Ultimate Bundle. Join us live in future weeks for a chance to win more cool things!
Children of Éarte
We return tonight at 6pm Pacific at Twitch
On the Éarte will be back next month, on the first week of February.
Upcoming
Character Builder & Digital Sheet
Pathfinder Character Tools Closed Alpha

Releases - Tuesdays and Thursdays
Fixes > Features > Open Beta
Spells Management, New Book Coverage, Companions and Familiars, and More (all features, which we will focus on after priority fixes)
Homebrew - Concept Phase
Game Content:
Pathfinder

Lost Omens: Firebrands, Treasure Vault, Rage of Elements

Vampire

Children of the Blood, The Chicago Folios

ALIEN RPG

Heart of Darkness, Chariot of the Gods