Free Archetype Error:
When attempting to select a free archetype feat at level 2 after enabling the free archetype variant rule, I see a little bit of a loading screen, followed by a black screen showing "Application error: a client-side exception has occurred (see the browser console for more information)." Checking the console, these are the errors I'm seeing: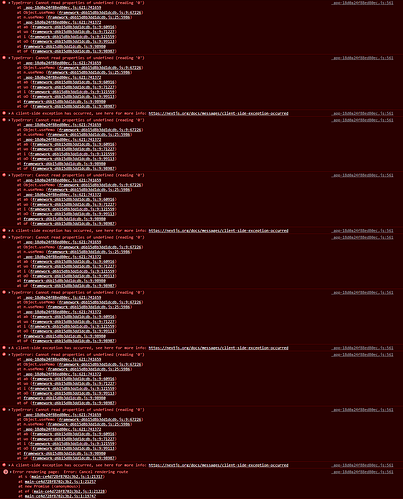 Steps to reproduce:
Create new character, set to level 2
Enable free archetype variant rule
Select Halfling ancestry, with Observant Halfling heritage, Halfling Luck ancestry feat, default ability boost options with the extra boost in Charisma
Select Entertainer background with ability boosts in Dexterity (required) and Charisma
Select Gunslinger class
Level 1 choices: Ability boosts in Dexterity, Constitution, Wisdom, and Charisma; Select Way of the Pistolero with skill training in Deception; Select Sword and Pistol for the Gunslinger Feat; Select Acrobatics, Intimidation, and Stealth for Skill Training
Level 2 choices: Select Pistol Twirl for the Gunslinger Feat; Select Charming Liar for the Skill Feat
Select Level 2 Free Archetype Feat
Error
Skill increase issues:
Level that character up to level 3
Select the Level 3 Skill Increase: Deception to Expert
Undoing that selection in the Level 3 Skill Increase menu (Dropping Deception back to Trained)
Notice that the Level 3 Skill Increase still retains its selection, and the Level 1 Skill Training has lost a selection (now at 2/3)
Go back to the Level 1 Skill Training and remove the Acrobatics selection (which was previously selected from this feature)
Notice that the Level 3 Skill Increase still retains its selection, the Level 1 Skill Training still shows 2 selections (still at 2/3), and the Way of the Pistolero Skill Training has now lost its selection (which we previously made as Deception, and is still shown as trained)
To fix this, I have to remove all skill proficiencies from the Level 1 Skill Training menu, and then remake all of my prior skill proficiency selections. I've noticed this happening on other classes as well, including Investigator.
Filtering:
Also, when selecting general, skill, and class feats for any characters, I am not seeing any filter options show up when clicking the Filter button in the top right. It would be nice to be able to filter by feat level, whether the prerequisite is fulfilled, whether that content is unlocked, or by feat type (general vs skill, class vs archetype, filtering down to a specific taken dedication if you've taken multiple) to make things easier especially for new players. The massive number of selections for skill feats, most of which have unmet prereqs, that you need to sift through when making any skill feat or general feat selection is a lot, so it might also be nice to default those filters to at least only feats that have met prereqs or have no prereqs.
UI:
I'm also seeing a strange UI issue on my character sheets when using any of the sheet themes besides Harrowed Destiny where the bottom of the upper name/character level card overlaps the top of the ability scores/armor class card (I'm unable to post more than one screenshot, let me know if you need more info on that one)
Other than that, the UI looks really clean, I'm definitely looking forward to more cool content and variant options in the future!
I am on Windows 10, using Chrome Version 113.0.5672.127