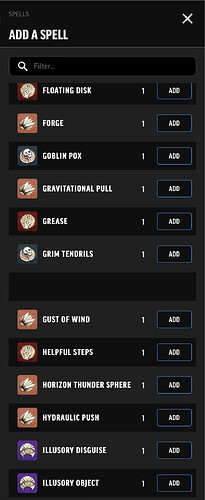 You can click on the blank space and the spell description comes up.
Edit: This was for an imperial sorcerer.
Thank you for the report! I believe this may be fixed, but if it's still persisting for you on a refresh, could you drop a link to the character here (or you can fire me a DM, if you prefer!) and I'll take a closer look!
Thank you! Can you check that your share settings are 'anyone with link'?
When you click on your character's image to open the sidebar, scroll down to the sharing options. There'll be a link to copy, and a dropdown to choose your sharing options. It's set to "only me" (private) by default. Hope that helps!
Thank you! I'm going to pass the issue along to the team to take a closer look. (Won't impact your sheet at all!)
Hello again! Can you let me know if this issue persists for you? Some other changes were implemented that may have helped address it. Thank you!
Thanks for the update. We'll keep digging into it.

Wow, you're working late!
Let me know if I can help with anything more. The character link up above still shows the issues…
I'm waiting for a video to render and trying to keep myself occupied while it does.

Mellie has already passed on as much info as possible about what you're seeing, but I'll make sure that we communicate back to you if there's anything else we need!