Am i just missing it? specifically for vampire if that helps
They can share their character sheets with you! To do so, they just need to open their sheet settings with the button I've marked 1 here on this picture, and then they can scroll down to share their sheet with you where I've marked 2 on this picture.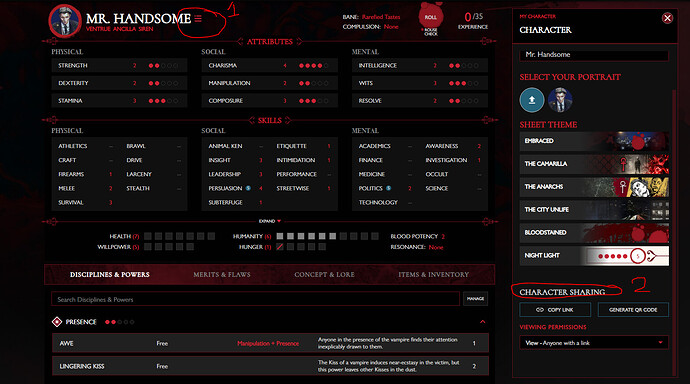 Thank you very much for the help
It would be really helpful if we somehow could share them with a campain. And helpful if the storyteller could make changes for us.
I know that at least in our group the storyteller likes to give handouts such as items and special powers.
So it would be very helpful if we could join a campaign and give him the rights to make changes.
I don't know if something like this is in the works or if I should post it as a suggestion somewhere.
Btw: I really like the layout of the sheet. Works well. Good work!
Have a nice day.
This is in the works! We plan to make some quality of life updates to groups and matchmaking, which will include integrating character tools into groups.

Thats amazing! Keep up the good work and our table will keep throwing money after good wod content.


Hi
Do we have a timeline on this? TBH this is why I was looking forward to character tools, to see them all from the My Groups section. Really helps with planning.
Aza221
We don't have any timeline to share at this time. Based on what our internal priorities are, I think there are some more things we want to do lay the groundwork for integrating character tools with groups before we'll be able to truly shift our focus to that development work.