Hi there folks! Amazing work on getting things to this stage, and I'm looking forward to watching this evolve.
I love the general feel and layout, and I'll have some more thoughts I'm sure when I play around a bit more, but so far it's looking pretty great.
I'd have had a few consistent issues, mostly in Safari on Mac (latest version of Safari and macOS) and on iPad (iPadOS 16.1.1), though a couple of them also appeared when I tried Chrome on the Mac.
The initial character creation screen takes a long time to load; it's visible but dimmed, with the disclaimer message pop-up, but the Demiplane logo spinner is there for a long time.

Response time is pretty slow in general, but that's to be expected at this early stage I would guess! Slowest responses are choosing ability boosts and other similar character choice buttons.

Each time I choose a main section of character creation - Ancestry, Background, Class - the display shows the initial Getting Started panel for a few seconds before loading the appropriate section, even when I was previously in a different section.

This one might be Safari only, but when choosing a class or going back to the class section, the options for the first eleven or twelve levels do not appear - there's either a blank space where they should be, or only the part of the level shows up, usually the bit at right containing the number of options for that level shows up. Those levels, and even the later ones that are visible, are unable to be selected or viewed in the right panel. Sometimes none of the levels show up at all. This has been consistent across the Investigator, Ranger and Bard classes which I've tried so far. (See screenshot for iPad example.)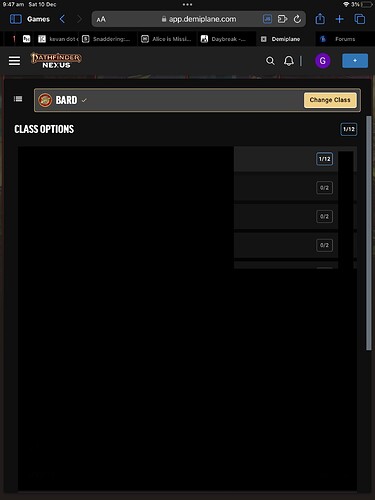 There have been multiple JavaScript errors in both browsers, including one that led to a full crash in Chrome.
Hope these are helpful in chasing down some bugs!