Hello everyone!
We have shared several announcements in the past five months about some of the greatest games in the world coming to our Nexus platform - Pathfinder Nexus is in Early Access, and World of Darkness Nexus and Free League Nexus Early Access will start this year. Development on the platform is progressing well - the team is committed to making tabletop roleplaying sessions better for all of the great games we will support. Today we can share that list has grown, kind of like Mr. Fantastic reaching for the sky…
The Marvel Multiverse Role-Playing Game NEXUS is launching from the start of the playtest next week, April 20th!
You can check out the full press alert below - we'll keep you posted here and in all of our channels as the playtest progresses:
---
Demiplane Teams Up with Marvel Entertainment to Create Marvel Multiverse Role-Playing Game NEXUS, an Official Digital Toolset for Marvel's New Tabletop RPG
Official Digital Tools to Power Your Own Epic Marvel Saga – the Marvel Multiverse Role-Playing Game NEXUS on Demiplane
Watch the announcement trailer: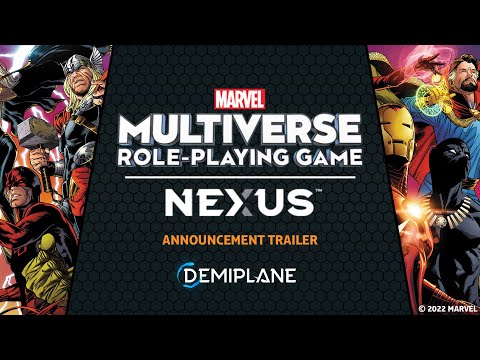 GREEN BAY, WI (April 12, 2022) – Demiplane announced today a licensing agreement with Marvel Entertainment to create Marvel Multiverse Role-Playing Game NEXUS, an official digital toolset for Marvel's upcoming tabletop roleplaying game. Marvel Multiverse Role-Playing Game NEXUS on Demiplane launches April 20th, with preorders for the Marvel Multiverse Role-Playing Game Playtest Rulebook and more information about the digital toolset available now at www.demiplane.com/marvelrpg.
The Marvel Multiverse Role-Playing Game NEXUS makes creating your own Super Hero saga fast and easy. Players have access to the full digital content, legendary Marvel Super Heroes, and game mechanics from the Playtest Rulebook, including global search, advanced filters, and interactive tooltips designed to let you find everything you need during your tabletop role-playing sessions. The Digital Reader and Game Compendium are perfect for any way RPG fans play: in person with friends, or virtually online. The platform also enables users to host and discover games, find players, keep track of game sessions, and interact using video and voice chat. The first phase supports the 120-page Playtest Rulebook designed to give a heroic Marvel RPG experience while providing the opportunity to shape the full release of the game through ongoing feedback.
"As a True Believer for as long as I can remember, the Marvel Universe has had a massive impact on my life – I doubt I would be doing what I'm doing today without being a Marvel fan," said Adam Bradford, Chief Development Officer at Demiplane. "With two of my greatest loves colliding in Marvel and tabletop role-playing, I can't wait for fans to experience this level of digital support from the very start of the playtest with the Marvel Multiverse Role-Playing Game NEXUS."
"With the upcoming release of the Marvel Multiverse Role-Playing Game: Playtest Rulebook, the Marvel team is so excited to extend our new role-playing game to an immersive digital experience," said Carlos "CJ" Cervantes, Jr., Project Lead of the Marvel Multiverse Role-Playing Game. "Working with a partner like Demiplane helps us offer high-quality digital tools that will make the playtest as accessible and convenient for players as possible. We can't wait for fans to dive into the game for themselves!"
Demiplane is an online platform that provides tabletop RPG players a home for digital tools, content, and services to discover and play their favorite games. It is an ever-expanding experience that brings fans of tabletop role-playing together in one place to make playing games better—including the upcoming official digital toolsets Pathfinder NEXUS, World of Darkness NEXUS, and Free League NEXUS.
About DEMIPLANE
Demiplane empowers roleplaying fans to make every game better by providing high-quality digital tools that support in-person and virtual play. On Demiplane, RPG enthusiasts access tools to discover new games, new players, form groups and enhance the ways games can be played, shared, and explored. Lifelong friends and die-hard RPG players Peter Romenesko and Travis Frederick launched Demiplane in 2020 to revolutionize how people engage with and enjoy roleplaying games. For more information, visit www.demiplane.com.
About Marvel Entertainment
Marvel Entertainment, LLC, a wholly-owned subsidiary of The Walt Disney Company, is one of the world's most prominent character-based entertainment companies, built on a proven library of more than 8,000 characters featured in a variety of media for over eighty years. Marvel utilizes its character franchises in entertainment, licensing, publishing, games, and digital media. For more information visit marvel.com. © 2022 MARVEL