From 12/6/2022 Dev Update
Latest Updates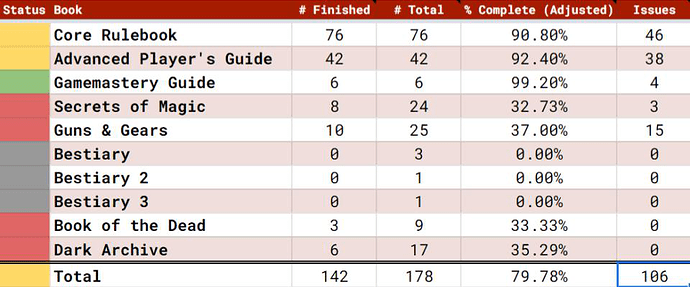 This image shows a status tracking sheet for how many of the character options have been covered to this point from each book within the character builder. As we get closer to closed alpha launch, more will be ready.
Pathfinder NEXUS - Early Access
(WIP) Blood Lords: Ghost King's Rage
(WIP) Character Builder & Digital Sheet

Closed Alpha

(Massive) Code Deployment In Progress
First Wave of Invites Expected This Week
Vampire NEXUS - Early Access
(SoonTM) Cults of the Blood Gods, Chicago by Night, Auld Sanguine - New Year's Eve Story

Submitted for WoD Team Review
ALIEN RPG NEXUS
(WIP) Destroyer of Worlds
Giveaway: We gave away a copy of the ALIEN RPG Core Rulebook and Colonial Marines Operation Manual. Join us live in future weeks for a chance to win more cool things!
Upcoming
Character Builder & Digital Sheet
Pathfinder Closed Alpha Access

Releases - Tuesdays and Thursdays

2-3 Additional Patches before EOY

Spells Management, New Book Coverage, Companions and Familiars, and More
Holiday Break
Demiplane Offices Closed

December 19th - January 3rd
All Services Monitored (and All Alpha Feedback to be Reviewed / Parsed)
Children of Éarte
Final Episode of the Year TONIGHT!
On the Éarte Holiday Special Next Week