I was trying to SIGN in the YELLOW Buttons.

RED works great


Thanks for the assist.

If you see your profile avatar in the top right corner, you are logged in and don't need to click those yellow buttons.

I am an end user who constantly surprises with my unpredictable actions.

Thanks again for setting me straight!
Looks like the developers addressed the issue by changing "Sign In" to "Books & Bundles"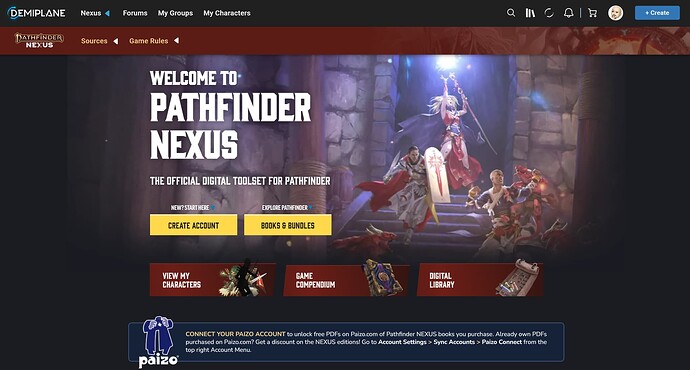 Works Great - Thanks!
Yes, we made a slight tweak here to hopefully cause a little less confusion.

Your tweaks always have outstanding results. Thanks to you and everyone on the Demiplane Team!
Now that we are in Beta with what looks like all available content, can you tell me if there are plans to be able to print out characters created here or will this strictly be digital?
Yes, exporting to PDF is on our short-term roadmap, which will then allow you to print out your character sheet.
How does the content sharing work? In the scenario, I own the gamemastery guide, John owns the secrets of magic sourcebook. I have the subscription to demiplane and content share with several people, one of whom, being John.
Everyone has access to the gamemastery guide, because I own it and share it
Everyone has access to the gamemastery guide, I also now have access to the secrets of magic book
Everyone has access to both the gamemastery guide and secrets of magic book
Thanks
In the above scenario, everyone you share with will have access to the Gamemastery Guide. If John doesn't have a Membership, he can't share Secrets of Magic with anyone, including you.
I hope this helps, but let me know if I can clarify things further.